Select the samples

that you want to be included in your download by clicking on the checkbox to the left of each sample name. You can select all samples in a project by clicking the checkbox in the table header.

Click on the Download

button in the upper-right hand corner of the table.
A modal will appear with options for download types.
Consensus genome - you can download the consensus genomes as a single fasta file or as separate files.
Sample metadata - download the sample metadata as a CSV.

QC metrics

- download the QC metrics as a CSV for each consensus genome with an option to append the metadata.
Click Start Generating Download

at the bottom of the modal.

The modal will disappear, and you will see a notification in the upper-right hand corner of your screen. You will see a link in that notification to check on the status of your download.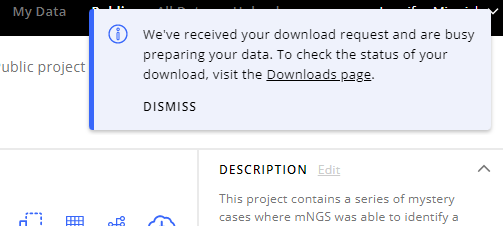 CZ ID will now start preparing your data for download. This involves calculating and compiling the data from the various samples you selected into a single file that is ready to download. This process can take several hours if hundreds of samples are selected

. When the process is complete, you will be able to download your file from the Downloads page.

The files will be compressed into a tar.gz file. If you are using Windows, you can use this document to learn how to open this file type.